Providing high quality products from leading UK and European manufacturers. All our products are manufactured to the highest standards and comply with all current UK and European standards. Our staff are friendly and efficient and have over 50 years combined experience in the plastics pipe industry.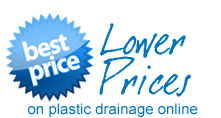 Drainage Channel UK
Drainage Channel is an online store selling to trade and DIY customers that specialises in high quality plastic plumbing products, from some of the UK and Europe's top manufacturers. With a combined 50 years of experience in specifying, selling and sourcing pipes, plastic drainage channels and other plumbing products, we have the in-house expertise to be able to help you find what you need no matter the job.
What does Drainage Channel do?
Our biggest strength at Drainage Channel is our friendly and efficient staff, who are only too happy to help you find what you need, and share some of their own skill and advice on how and when to use our products to get the most out of your plumbing system. Drainage Channel stocks a huge range of different types of plumbing products, and our staff are trained an experienced enough to be knowledgeable about each of our product ranges, their benefits and drawbacks, and how you can use each to achieve the aims of your project.
Drainage products at Drainage Channel
One of our major specialities is in drainage products, including a variety of types of drainage from soil and grey water waste to surface water drainage and guttering. This includes all kinds of plastic drainage channels, linear shower drains, drainage gullies, traps, catch basins, inspection chambers and much more. On top of this, we also sell a range of ancillary products that can make your drainage systems more effective, including things like manholes, ducting, damp proof membranes and drain testing equipment. Even better, alongside the products in our range we also have a huge range of accessories to help you create the exact drainage system that you need, including traps, underground drainage, end caps, grates, covers, branches and t-sections as well as much more.
Drainage Channel has a particularly good line of plastic channel drainage products for all kinds of situations, made by some of the best and most famous drainage channel manufacturers in Europe. At Drainage Channel we stock all kinds of different types of plastic drainage channel, including options that can hold various different weights for different applications, discreet drainage channels for tight spaces, shallow channels where space is at a premium, and high quality channels that look better aesthetically. As a result, we can provide whatever you need for the project at hand.
Soil products at Drainage Channel
We don't just do drainage at Drainage Channel! On top of our amazing drainage range, we also sell all kinds of soil pipes and fittings, as well as vents and drainage outlets. Not only are our products made from durable, high quality plastic that won't let you down, they're also lightweight and easy to manage, so it's not a tough job to fit them either. Alongside all of our soil products at Drainage Channel we also have a range of accessories and other parts that can be used to make your soil solution perfect no matter what type of project you're working on.
Water and gas products at Drainage Channel
Alongside our waste systems, we also have solutions in the fresh water and gas markets too. We stock all kinds of water and gas products for use in a variety of different applications, including residential as well as commercial premises such as cafes and restaurants, and industrial premises too. Complying with all relevant British Standards, our gas and water products cover a whole range of different uses including gas service pipes, water stand pipes, plasson valves, gas pipe ducting and much more.
High quality at a great price
Here at Drainage Channel, alongside our commitment to great customer service, we also promise that all of our products are great quality as well. Not only does everything we sell conform to stringent British Standards, we only use high quality plastic parts in everything we sell. That quality extends from the plastic, to the metal, to the rubber seals and moving parts on all of our ranges, meaning nothing we sell will let you down. It also means lower maintenance costs, a lower chance of failure, higher performance for longer, and easier installation and fitting as well. Even better, our range of parts and accessories for all of our products is extensive enough that you'll never be left without what you need on any job.
Shop for drainage products now at Drainage Channel
Drainage Channel is your one stop shop for a huge variety of different products, from plastic drainage channels to gas pipes, polymer concrete channels, water pipes, soil products and valves and other fittings. With a commitment to great quality and great customer service across the board, not only can we supply you with what you need, we can also help make sure that you have everything to create the perfect setup on your project, from waste pipes to drainage, and from gas to clean water.