The Importance of Linear Shower Drainage: Exploring Various Types
16 November 2023 | Admin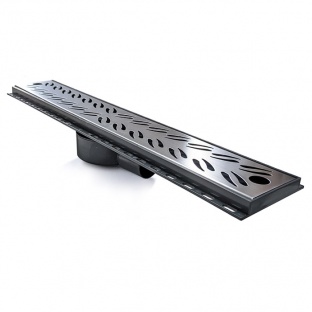 Linear shower drains have revolutionised bathroom design and functionality. These drainage solutions, known for their elongated form, offer a blend of aesthetic appeal and efficient water management. We will explore the significance of linear shower drains and delve into various types such as Stainless Steel Shower Drains with Plastic Body, Tile Inset Linear Drains, Square and Wave Laser Cut Linear Drains, and traditional Square Shower Drains.
Stainless Steel Shower Drain with Plastic Body
A popular choice for modern bathrooms, Stainless Steel Shower Drains with Plastic Bodies offer durability combined with cost-effectiveness. The stainless steel provides a sleek, corrosion-resistant surface ideal for wet environments, while the plastic body ensures a lightweight yet robust structure. This combination guarantees longevity and ease of installation, making them a practical choice for various bathroom styles.
Tile Inset Linear Shower Drains
Tile Inset Linear Shower Drains seamlessly integrate with the bathroom floor, allowing for a continuous tile design. These drains are designed to hold a tile insert on the top, blending perfectly with the surrounding flooring. This type of drain is ideal for those seeking a minimalist and uninterrupted aesthetic, as it camouflages the drainage system while maintaining efficient water evacuation.
Square Laser Cut Linear Shower Drains
Square Laser Cut Linear Shower Drains bring a unique blend of traditional and modern design elements. These drains feature a square shape but with the efficiency of linear drainage. The laser-cut patterns on these drains not only add a decorative touch but also enhance the water flow efficiency. They are perfect for those who prefer a more geometric aesthetic without compromising on the functionality of linear drainage.
Wave Laser Cut Linear Shower Drains
Wave Laser Cut Linear Shower Drains offer an artistic and fluid design, ideal for contemporary bathrooms. The wave pattern not only serves as an attractive design element but also facilitates efficient water flow. These drains are a testament to how functionality and design can coexist, offering a stylish yet practical solution for modern shower spaces.
Square Shower Drains
Square Shower Drains, though more traditional, remain a staple in many bathrooms. They offer simplicity and reliability, with a variety of designs and finishes available to match different bathroom decors. While they might not provide the same level of water management as linear drains, they are still a viable option for those looking for a straightforward and cost-effective solution.
Shop Linear Shower Drainage
The evolution of shower drainage systems, particularly with the advent of linear drains, has significantly impacted bathroom design and functionality. From the durable and cost-effective Stainless Steel Drains with Plastic Bodies to the aesthetically pleasing Tile Inset and Laser Cut options, there is a wide range of choices catering to different tastes and requirements. The importance of these drainage systems lies in their ability to combine efficiency, safety, and style, making them an essential component of modern bathroom design.
All of the above products are available to purchase at Drainage Channel! Whilst you're here, why not check out our wide range of plastic channel drainage products? We are a UK specialist in channel drainage, providing our customers with the best products at the best prices. Don't hesitate to get in touch with us with any enquiries, using our landline, mobile or email contact details in the top right.